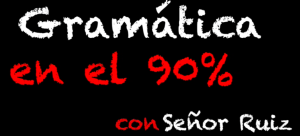 Hey everybody!  Señor Ruiz here…
Those words begin the intro to every video before switching to Spanish to deliver grammar instruction in a fun and entertaining way.  The delivery is given at the students' level and pace, making it more comprehensible for language learners.
Students can view the videos at their own pace and as many times as needed until understanding of the concept is achieved.  The intention is that they view these prior to class to help make class time more effective, essentially flipping the classroom.  In addition, downloadable supplementary materials for every video will help guide students through each video.
Scroll down to the bottom of the page or mouse over the tab at the top to view the available videos and supplementary materials.
LOOK FOR AN UPDATE to these pages soon. I will be remaking some of the videos and materials to be more comprehensible input (CI) friendly, as well as adding new CI friendly materials in the near future.
YouTube Channel Trailer:


Videos and supplementary materials: